Meet The Colourist
Martin Klein
Colourist, Filmmore
Filmmore operates in Amsterdam and Brussels.
Their colourist, Martin Klein, is a skilled artist who loves his work as well as photography, and keeps bees when he's not in his colour room.
How did you make your start in colour?
After studying photography, I started working at the biggest film lab in the Netherlands grading film - what used to be known as colour timing. I was mainly working on feature films and documentaries, but then I switched to film scanning and continued with tape-to-tape colour correction for commercials and television. Ten years ago, I started working with Baselight for both feature films and drama series at Filmmore Amsterdam.
Filmmore has offices in Amsterdam and Brussels – can you describe your facilities and overall processes?
Filmmore Amsterdam has various facilities for editing, film and video grading, visual effects and mastering plus DCP creation for feature films, television and documentaries. Filmmore Brussels supports both grading and visual effects for feature films and drama series.
Can you tell us about your post pipeline and set-up over your various departments?
We run twelve Avid suites for offline editing, five Baselight grading suites, two Baselight conform seats and six mastering/finishing seats, all divided between our different offices. On top of this, our VFX-department is scalable from five to 40 workstations.
Our Baselight grading suite for cinema is set up as a fully calibrated screening room, so we can review the master DCPs with our clients in the room where grading has taken place. We pride ourselves on having our 4K Sony projector calibrated to the very tight SMPTE standards for screening rooms, just as the 7.1 audio system is calibrated to Dolby's standards.
On our client's request, we've also set up a specific workflow for drama series working on a budget. Using Sony's XAVC codec and the Avid AAF protocol, we've managed to set-up a seamless transfer from Avid to Baselight, without having to compromise on overall quality.  
What sort of content do you work on nowadays?
Lately, in between features, my work has been focusing more on drama series. Every series needs its own look and continuity of course, which keeps it challenging and interesting.
Join In
If you want to participate in our MTC programme, we'd love to hear from you. Contact:
Alexa Maza
e: alexa@filmlight.ltd.uk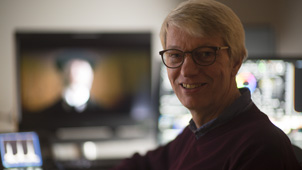 "The shooting days were divided across all seasons and were filmed in five different European countries. It was such an interesting challenge to create an atmosphere in which the viewer would experience the film as if it was all filmed in the United States around 1880."
Details
Colourist: Martin Klein
Role: Colourist
w: Filmmore
Baselight colourists & creatives