Meet The Colourist
Tom Nicol and Mike Trevett
BBC Street Post, Glasgow
Colourists Tom Nicol and Mike Trevett are based in the colour and finishing suites at BBC Scotland's in-house post-production facility, BBC Street Post in Glasgow. The company recently upgraded to a brand new 4K HDR Baselight system and implemented render-free circular workflows.
Tom and Mike have graded a wide variety of content that ranges from BBC Scotland drama River City, CBeebies Molly and Mack, and BBC Studios' returning series Trust Me I'm a Doctor.
Tell us a bit about BBC Street and BBC Scotland.
BBC Street is a facility that sits within BBC Scotland providing post-production services and support to both internal and external programme makers.  We work with external clients as well as internal productions that are broadcast across national and international BBC services, BBC Scotland and BBC Alba, the Gaelic language channel and for other broadcasters. We cover a wide range of programmes such as adult and children's drama, short films, as well as documentary features.
BBC Scotland is a division of the BBC and the main public broadcaster serving a population of over five million people. It falls under three national regions alongside BBC Cymru Wales and BBC Northern Ireland, and provides services to all of Scotland's major urban municipalities, rural and island communities.
What creative services does BBC Street provide?
BBC Street offers a full range of services including offline and online editing, colour grading, dubbing and delivery across a wide range of programmes. 
We support the latest technology across our extensive range of suites and can facilitate programmes across multiple edit suites with on and off-site direct access for collaborative working. We can handle practically any delivery requirement for broadcast.
Our experienced Post Support team offers advice from acquisition through to mastering and delivery, whether it is for full end-to-end service in-house, simply assisting the workflow design or for an on-site editing, delivery or broadcast project.
You have been using Baselight for quite some time at BBC Scotland. When did you first choose to work with FilmLight and start using their grading system?
We began considering our requirements for a new grading facility around 2008/9. After some extensive research of various options, we decided to engage with FilmLight back in 2010 to install our Baselight Grading Suite.
Join In
If you want to participate in our MTC programme, we'd love to hear from you. Contact:
Alexa Maza
e: [email protected]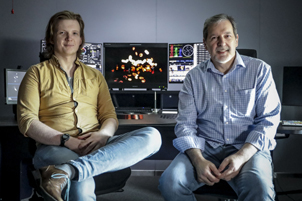 "Broadcast timescales can be very tight. The Baselight approach makes the very best of the time available. We can address more finishing requirements in the grading suite, and it reduces time spent on correction and matching sources, so more actual grading can take place."
Details
Colourist: Tom Nicol and Mike Trevett
Role: Colourists
Web: BBC Street Post
Baselight colourists & creatives